Canada 🍁 School Admission
Are you looking for a high-quality education for your child that offers a multicultural and interactive classroom environment? Look no further than Canada K-12 admission. With a world-renowned education system that emphasizes practical, research-based learning, Canada offers over 40,000 international students each year the opportunity to study at public, private, and boarding schools. Not to mention, children of study permit or work permit holders are eligible for free education in Canada. Keep reading to learn more about the benefits of Canada K-12 admission and how to apply for this incredible opportunity.
Canada is a great country for education. From elementary school to universities, the Canadian education system ensures practical, and research-based world-class education. Each year over 40,000 international students start their education at public, private, and boarding schools in Canada.
Tuition fees at schools start from CAD 10500 to above. Child of study permit or work permit holders is eligible to receive free education in Canada.
Every child aged from 6-19 is eligible to get admission in the elementary & Secondary schools in Canada.
Multicultural and interactive Classroom environment
Global citizenship training in the classroom by teaching how to achieve tolerance and respect others.
K-12 students are allowed to homestay with Canadian family, that makes them an integral part of Canadian culture and society
The main attraction of Canada Schooling visa is that this program allows Parents to fly with children and stay Canada for longer period of time.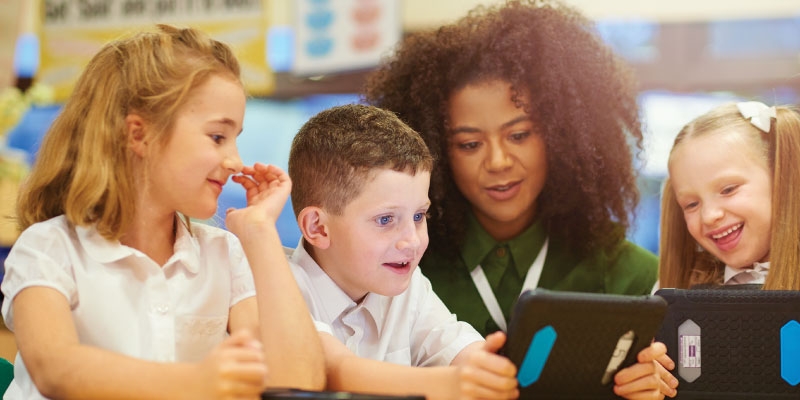 Public schools are funded by provincial governments, follow a provincial curriculum, and are overseen by a Board of Trustees elected by the community. The tuition fees ranging from CAD 11000 – 20000. Most international students admitted to these public schools.
Private schools operate according to the regulatory environment in each province or territory. Private schools are required to be registered with ministries of education and must meet the curriculum standards set by the ministries. Some states like Ontario allows private schools to operate independently.
Independent schools are not 'private' schools, though they are often referred to that way. The key difference is that private schools can be for profit and independent schools are not. Independent schools have charitable status and donations can be eligible for tax receipts.
One of the best ways for international students to learn about Canadian culture and improve their English language skills is to stay with a host family. Homestay programs can help students gain more from their international studies. This is because through a homestay, students can gain a network of native English speakers to practice speaking with, as well as daily insight into Canadian culture, including its cuisine.
Documents Needed for Canada School Admission
Student's Passport
Academic transcript of Last 2-3 grades
Letter of recommendation
Passport size photograph (35mm x 45mm)
Statement of purpose
Application Fees
Vaccination Card
Custodian Declaration Form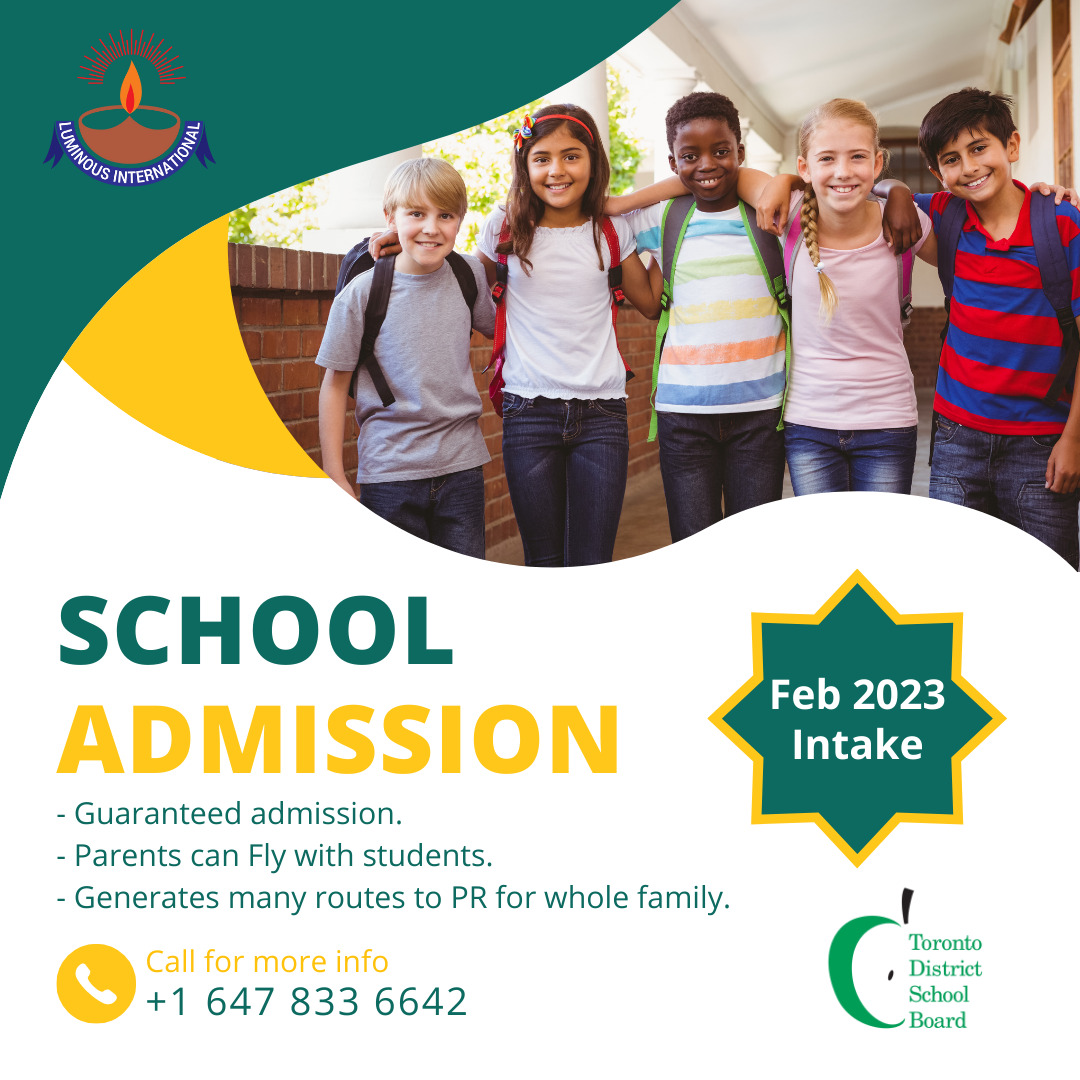 Eligibility for School Admission in Canada
All minor children aged over 6 are eligible to apply for this program. Ontario Ministry of Education directs enrolment using Age Appropriate Grade Placement. This means that applicants' grade placement is determined by their year of birth.
| | |
| --- | --- |
| Age | Grade of Admission |
| 6 | Grade 1 |
| 7 | Grade 2 |
| 8 | Grade 3 |
| 9 | Grade 4 |
| 10 | Grade 5 |
| 11 | Grade 6 |
| 12 | Grade 7 |
| 13 | Grade 8 |
| 14 | Grade 9 |
| 15 | Grade 10 |
| 16 | Grade 11 |
| 17 | Grade 12 |
Each province and territory decides the age when a person becomes an adult. This is known as the age of the majority. A person under the age of majority is a "minor child".
| | |
| --- | --- |
| Province or territory | Age of majority |
| Alberta, Manitoba, Ontario, Prince Edward Island, Quebec, Saskatchewan | 18 |
| British Columbia, New Brunswick, Newfoundland and Labrador, Northwest Territories, Nova Scotia, Nunavut, Yukon | 19 |
Benefits of Canada Schooling Visa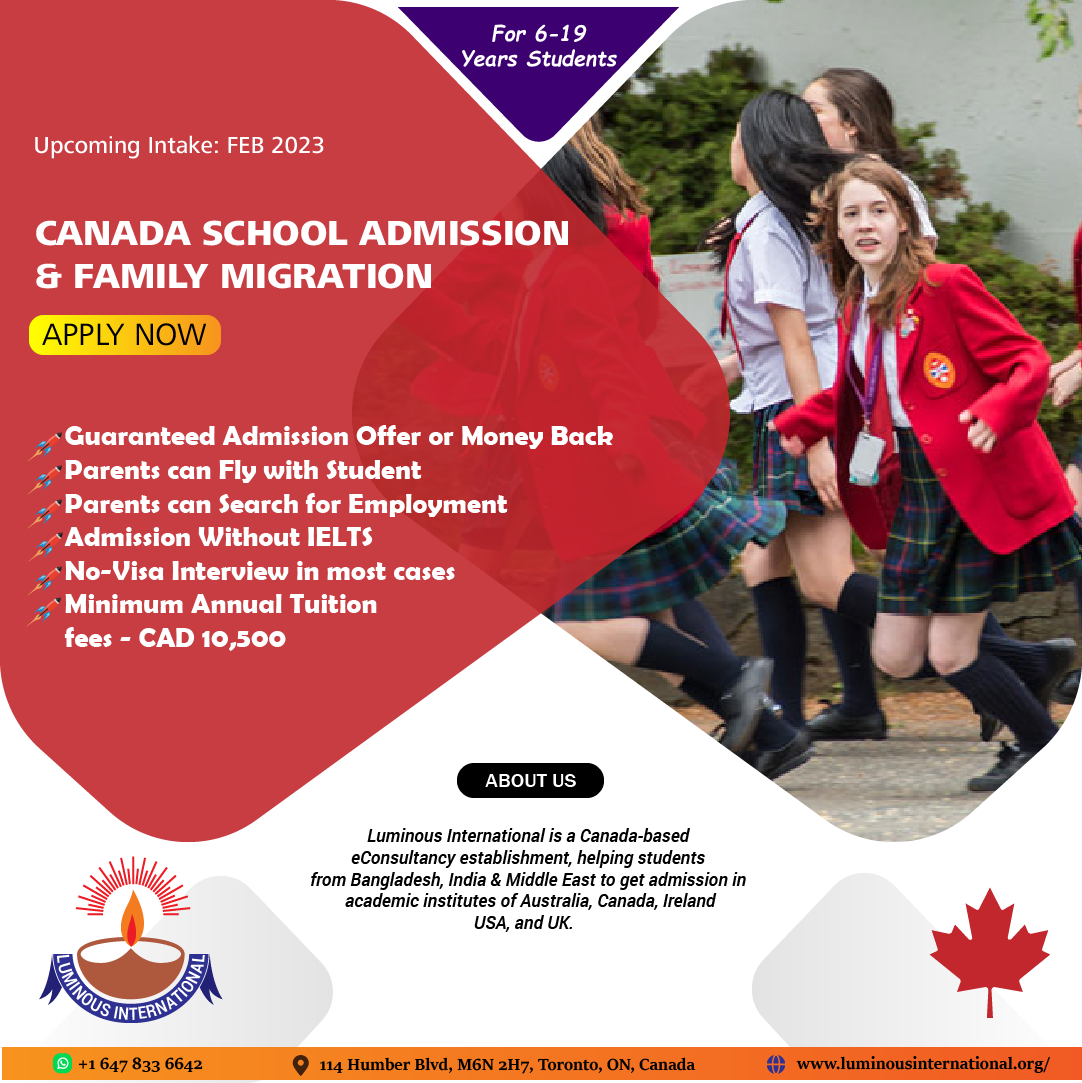 TESTIMONIALS
What People Are Saying
International students can be admitted to elementary school in Canada! I do not know it before my parents contacting to Luminous International. With their help, I am now admitted to the Toronto District School Board in grade 8. I choose to study Canada as the classroom is multicultural and friendly.
I was looking to get admission to grade 11 in Canada. However, due to my age, many schools rejected me as I am over 18. Finally, Luminous International suggested me to apply for Aldergrove Community school, located in Langley, BC, which helps in getting admission to this college at grade 12.
Are you Interested in Educating your Child Abroad from Early Childhood?
Are you interested in staying in Canada for a longer period of time with your child?
Is your child aged between 6-19 years?